The IMETS consortium is delighted to announce the International Medical English Testing System Conference taking place 10-11 Dec 2021!
This IMETS project closing conference will take place online so that professionals from across the globe are able to join.
We will take this opportunity to present the main results of the project, including the IMETS examination papers that have been developed to test English for Medical Purposes (EMP) in a computer-based setting. We will demonstrate how the IMETS exams can be taken on the dedicated online platform. You will have the opportunity to ask questions and participate in discussions regarding the IMETS examination system.
Please see the updated conference program: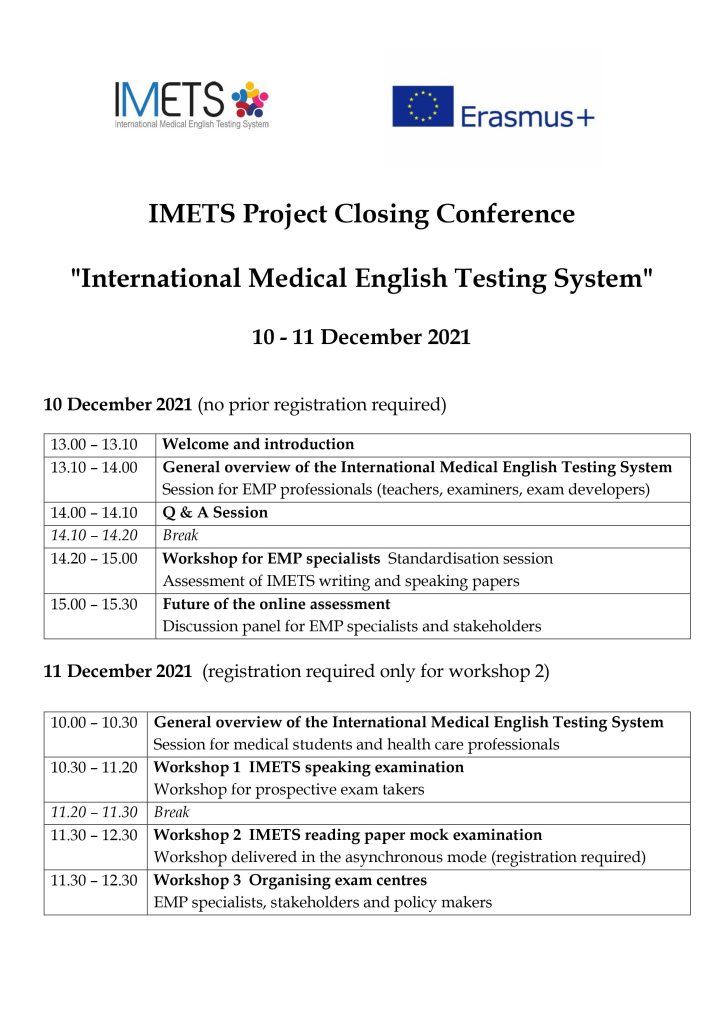 On Friday, 10 December 2021 we will discuss also the process of the IMETS exams development and assessment so the sessions on these days are dedicated to the professionals involved in the English for Medical Purposes exams development and assessment.
On Saturday 11 December 2021 we will present the International Medical English Testing System from the perspective of the IMETS exam takers. We would like to invite health care professionals and students who are interested in assessing their language skills for medical purposes to take part.
The conference is free of charge.
The event will be held online via MS Teams. No prior registration is required for most of the conference sessions. You can join the conference using the direct link:
10 December 2021 conference sessions
11 December 2021 conference sessions
The registration is required only for the IMETS mock exam sessions. All interested parties are welcome to register for the mock exam session here. After completing the registration form and clicking the SEND button the activation code will be automatically sent by e-mail. You need to enter this code to complete the registration and you will have direct access to the mock reading test. You can also log in directly to the online platform here.
If you are interested in receiving the certificate of attendance please complete the form here.
We look forward to meeting you online.
The IMETS Partnership